Happy Tuesday, everyone! As you may or may not recall, a couple of weeks ago I dubbed this day of the week TV Tuesday, and promised to spend it talking about my favorite shows and why I love them.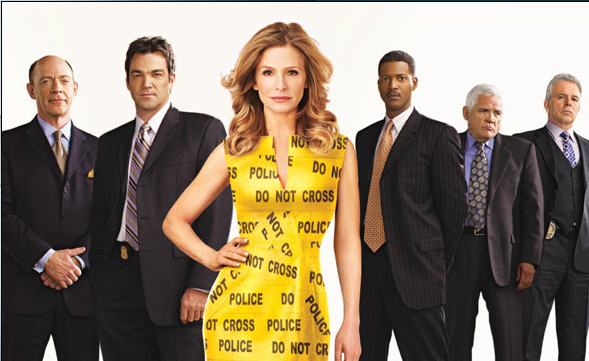 Today, I thought I'd do my homage to TNT's The Closer, which stars Kyra Sedgewick as Brenda Lee Johnson, a Southern police detective with a reputation for getting her suspects to crack under questioning who has been transplanted to Los Angeles. (One of my favorite early episodes has Brenda trying to drive to a crime scene alone and getting lost because there are about a dozen different streets in LA with some version of Mulholland in their name. So true!)
The Closer isn't a particularly new series–I'm sure it's been around for three or four years now–but I only discovered it after it was into its third or fourth season. As soon as I did, I went back and purchased all the back episodes from iTunes, since I wanted to see it from the beginning. Along with House, I'd say this is the show that really brought me back to watching TV on a regular basis. Until I discovered these two dramas, I honestly thought TV had been lost to the reality show craze, and frankly, I hate reality shows.
So, what is it about this show that I love so much? Well, first, I'm a sucker for any type of mystery/police drama. That's not because I like violence, but because I love the problem-solving. I prefer a story in which I'm learning "whodunnit" alongside the protagonists, rather than one where I know who the bad guy is with certainty from the outset. And I love when I get to the "aha" moment with the lead character, and realize at exactly the same point he or she does who the villain is. (Conversely, I hate it when I figure it out before the protagonist does, because then I wonder why the character is dumber than me, lol.) I think The Closer stands up well on this front–I'm usually right there with Brenda when it dawns on her who did it and/or how she can prove it.
But it's really the character of Brenda Lee and Kyra Sedgwick's masterful portrayal of her that keeps me coming back. The ensemble supporting cast of characters is also terrific–don't get me wrong–but it's Brenda I'm drawn to, and I think that's simply because she's not perfect. She's smart and incredibly talented and driven, but she's also a little too driven (to the exclusion, at times, of her loved ones) and more than a little neurotic and not always as diplomatic as she ought to be. In a lot of ways, I see myself in Brenda–or at least I want  to. Maybe I'm not as smart or talented as she is, but I'm at least as driven, and that leads me to make all the same basic mistakes in my own interpersonal relationships that she does (although perhaps not quite to her extreme). And I love Brenda for that, and for the fact that she is so flawed and yet, ultimately, cares deeply about the very people she so often hurts in her determination to get to the truth.