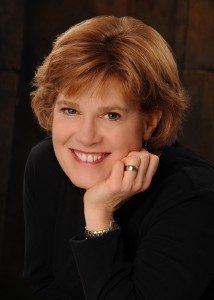 Happy Friday to you all!
Now that you're here, pull up a chair and welcome Margaret Mallory today, author of Knight of Desire, which is hitting bookstores this very week!
Jackie: So, tell me a little about your debut novel, A KNIGHT OF DESIRE. What gave you the idea for the story and why did you choose to set it in the medieval period?
Hi Jackie,
Thanks for inviting me today.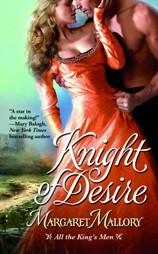 Early on in KNIGHT OF DESIRE, I have a scene in which my heroine, Lady Catherine Rayburn, steps out alone onto the drawbridge of her castle to meet a group of men-at-arms. This drawbridge scene is what came to me first. The conflict between my hero and heroine grew out of this scene, and I built the rest of the story from there.
At the start of the story, my heroine has been spying on her husband—a violent man who is involved in treachery against the crown–and passing secret messages to her friend, Prince Harry. It is while her husband is off meeting with Welsh rebels that these rough men-at-arms gallop up to her castle gates. Since they carry the king's banner, she cannot refuse them entry. Still, she is suspicious. After warning the guards to drop the portcullis behind her if she signals, she ducks under the half-raised portcullis and steps out alone onto the drawbridge.
Our hero, William FitzAlan, is among the men waiting on the other side of the moat. The king has granted him the castle and lands belonging to the traitor he defeated today in battle. His second prize is the newly-made widow standing on the drawbridge. Although he has dreamed of the achingly beautiful Lady Catherine for years, he knows better than to trust her. What kind of woman could share her husband's bed for years and still betray him to his enemies? In what other ways did she betray her first husband?
Once this scene came into my head, I knew my story was a medieval. I love themes of honor and loyalty, so this was perfect. But when? What I wanted was a period mired in rebellion and divided loyalties. I love history, so researching a few centuries was the fun part. What luck for me that Henry Bollingbroke wreaked havoc by usurping the throne from his cousin. Shortly after he took the crown, he faced rebellions on both borders and conspiracies left and right. I'd found the year for my story: 1405.
Jackie: Wow, what a fascinating setup and opening for a story. And I love the way you "found" the time period for your story. One of the things I love most about writing historicals is getting an idea and then being able to find a time period and place when it actually could have happened. Those synergies between reality and imagination are just so much fun.
 
I have to admit, though, that I'd be terrified to write anything set in the medieval period. Can you tell me about the challenges that come with writing a story set in this period? Or was it all just much easier to research than I imagine?
I'd say one of the biggest challenges is dealing with the issue of young teenage girls being married off, often to much older men.  It just doesn't sit well with the modern reader to see a thirteen-year-old married to an adult man of thirty or fifty.  I worked in the state children's services agency for several years, so this sure looks like child abuse to me!  How I've dealt with it in this series is to have my heroine and hero get together AFTER the heroine's first marriage.  Multiple marriages were quite common, which isn't surprising with so many women dying in childbirth, men dying in battle,  and the big age difference you often see between spouses in noble marriages.  If you look at the family trees of historical figures from the time, you often see men and women widowed and remarried several times.  Henry VII's mother, for example, outlived four or five husbands.   She was married at twelve the first time and was already a widow when she gave birth at thirteen. 
Jackie: Oh, good point! You know, now that you mention it, I remember reading quite a few medievals and or late Renaissance-set stories in which the heroines were in their mid-teens at the beginning of the story in the 80s, but you rarely see any books with very young heroines like that any more. I suppose since I WAS in my mid to late teens when I was reading those stories, it didn't bother me, but now it almost certainly would. But at the same time, I do think those stories were more historically accurate in some ways.
 
So, tell me, what for you is the best part of writing a book? And what's the worst?
The worst part is all the sitting!  And then there is not eating all day while I'm sitting, since I'm home alone with no one watching.  The best part is harder to say.  I spent many years at jobs where my days were filled with non-stop meetings.  As an introvert, I do like having a lot of time alone, living in the stories in my head.  Another thing I really enjoy is following characters through a series.  I'm finding that I become so attached to a younger character in my book that I want to give him a story of his own–and a happy ever after.  🙂 
Jackie: Hey, what's wrong with sitting? Okay, well, aside from the secretarial spread, lol.
 
So, can you tell us a little bit about the next book in the series (like title, release date, etc.)? And maybe give us a preview of what you're working on now?
I am very fortunate to have my second book in the series, KNIGHT OF PLEASURE, coming out just 5 months after the first.  The hero is Sir Stephen Carleton, who is the younger half-brother of William, the hero of KNIGHT OF DESIRE.  You'll love Stephen.  He was such a charmer and so prone to trouble at twelve that I knew he'd make a great hero.  Much of this second book takes place in Normandy, where Henry V (Prince Harry in book 1) is busy reclaiming lands that once belonged to England.  Check out the cover on the book page of my website, because it is GORGEOUS.  www.MargaretMallory.com   Really, I cried when I saw it.
I'm busy working on the 3rd book in the series, KNIGHT OF PASSION, which is scheduled for release next July.  The hero of this one is Jamie Rayburn, who is a toddler in the first book and a teenager in the second  It's been so fun to watch him grow up.  The heroine, Linnet, proves quite a challenge to him.  Oh, oh.  I'd better run soon, or I'll never meet my deadline!
Jackie, thank you so much for having me as a guest.  It was fun!
---
Thanks to Margaret for guesting on the blog today and also for her generous offer to give a copy of KNIGHT OF DESIRE to one lucky commenter. Just leave a comment between now and Monday morning to be entered for a chance to win! I'll draw a random name from the hat around nine am PST on Monday and notify the winner.