I know some people are interested in seeing sales trends for self-published work, but if you aren't interested, please feel free to click away, because this is going to be boring, boring, boring.
Here's the sales chart for The Reiver through June: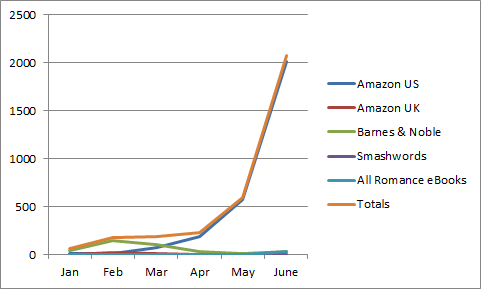 If you're looking at that line for Amazon sales and thinking "What the hell," rest assured you're not alone. I'm thinking the same thing :).
There are a few explanations I can come up with, but once again, none of them is anything that was in my control:
1) Amazon sent out an email plugging six 99-cent books, including Courtney Milan's Unlocked and Paula Quinn's Laird of the Mist. Even though The Reiver was not mentioned in the email, it has strong "Also Bought" associations with Quinn's book and less strong ones with others on the list. That led to a massive bump in sales that day and, although sales dropped off some since then, they are still running at about 100 a day compared to 40-60 a day earlier in the month.
2) The fact that my sales have been consistently steady for the last six weeks or so has kept its overall ranking in the Kindle store very solid (drifting between the high 300s to the high 500s after the boost from the Amazon marketing email), which has also kept it on the second page in the Historical Romance lists (both Kindle and Books) for over a week. Although I think being in a top 100 list is of less value than Also Bought lists in generating sales, I agree with Courtney, who said last month that she thought it depended where you were on the list (the higher up, the better). I also think which list you're matters. For example, The Reiver has been on the Romance Anthologies list's  first page for quite some time, but it doesn't have as much value as being on the second page of the Romance Historicals list, because people are much more likely to pull up the Historicals list than the Anthologies list in the first place.
Finally, yesterday, RT Book Reviews featured The Reiver on its blog in a list of their "favorite" twelve bargain ebooks. Look at that placement! I was shocked (and many thanks to Elyssa Papa for the tweet about it, or I never would have known). So far, I don't think I'm seeing any effect from this promotion, since their link goes to Smashwords and I haven't sold a single copy on Smashwords since the first day the book was available for sale. (Twenty-two copies were downloaded using a coupon code, but I don't count those as actual sales since there was no money involved.) Despite that, I'm thrilled that RT even knows I'm alive :).
So, that's all the sales news for this month. Things seem to be rolling along so far in July (26 copies at last count, less than 12 hours into the day) and even if they dropped into a black hole at this point, I'd be happier than a pig in slop.