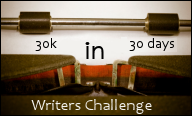 It's been more than a month since I last posted. and yeah, it's been that kind of a month. But now that my company's conference is over and I've finally gotten my head around this new school pick-up and drop-off schedule (cue the chauffeur pun from Tom & Ray Magliozzi's Car Talk)), I think I'm ready to really kick the writing up a notch…or ten. Honestly, it's not like I have a choice. I have a novella to get out in November and a category length novel to finish by February. It's time to put the pedal to the metal, as they say.
Which is why I am launching a 30k in 30 days writer's challenge for the month of October. The goal is to write an average of 1k per day, starting on October 1st. And since there are 31 days in October, if you decide to join me in the challenge, you get one free day.
This isn't the first time I've done a 30k in 30 days. The last time I did this was when I had a month to finish the last of the Behind the Red Door novellas. And I have to say, it worked for me. I've never been able to do anything like NaNoWriMo–fifty thousand words in a month is just out of my league. But thirty thousand is doable.
So, are you in?