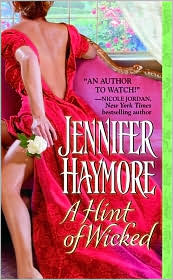 Today, I'd like to welcome Jennifer Haymore, author of A Hint of Wicked, to the blog. When I first heard about this book a few months ago, I was instantly intrigued. The premise was just too unusual not to spark my interest.
Here's the back cover blurb:
CAUGHT BETWEEN DUTY AND DESIRE . . .

Sophie, the Duchess of Calton, has finally moved on. After seven years mourning the loss of her husband, Garrett, at Waterloo, she has married his best friend and heir, Tristan. Sophie gives herself to him body and soul. . . until the day Garrett returns from the Continent, demanding his title, his lands-and his wife.

TORN BETWEEN TWO HUSBANDS . . .

Now Sophie must choose between her first love and her new love, knowing that no matter what, her choice will destroy one of the men she adores. Will it be Garrett, her childhood sweetheart, whose loss nearly destroyed her once already? Or will it be Tristan, beloved friend turned lover, who supported her through the last, dark years and introduced her to a passion she had never known? As her two husbands battle for her heart, Sophie finds herself immersed in a dangerous game-where the stakes are not only love . . . but life and death.
As soon as I read that hook, I was hooked. I just received my copy in the mail a few days ago and am itching to sit down and dive into it. In the meantime, I asked Jennifer a few questions about her book and writing in general. So, without further ado, here are my questions and her answers.
---
Jackie: Tell us a little bit about your upcoming release, A Hint of Wicked. What sparked the idea for the story of a woman who has remarried only to discover her first husband is still alive?
Jennifer: Way back in 2007, my husband and I were discussing plotlines for a new story. I told him how I love getting my characters into horrendous, impossible-to-solve problems and then helping them to figure out a solution, no matter how impossible it might sound. The upshot: The bigger the conflict, the more fun I have as a writer.
My husband thought about it a while and finally said, "What about a man returning from the grave to return to the woman he's loved forever, only to find her with another guy?"
Hmmm…(I actually think my first verbal reaction was, "Hmmm…") what an idea! I took it and ran with it, and haven't looked back since.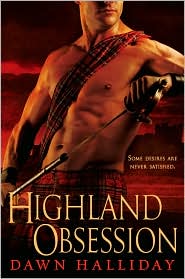 Jackie:  You've been writing under the pen name, Dawn Halliday, for some time, and have quite a few books out with Samhain and Ellora's Cave, and NAL will be releasing a Dawn title soon. Could you tell us how your "Dawn" books differ from your "Jennifer" books?
Jennifer: The Dawn books, while being romances first and foremost, have a stronger erotic element than the Jennifer books do. My first New York title as Dawn, Highland Obsession, will release from NAL/Signet Eclipse in August.
[Editorial comment: Ooooh, hot cover. I'd like one to go, please :).]
Jackie: How do you write a book? Are you a plotter or a pantser or somewhere in between? Do you start at the beginning and write straight through to the end, or jump around and write scenes that are clear to you regardless of where they appear in the book?
 
Jennifer: I'd say I'm somewhere in the middle. Now that I'm contracting books on proposal, my editors want to see a complete synopsis before I finish a story. So I write synopses now, and I do find them to be a beneficial loose guide when I'm on deadline and working hard to finish a book. However, if the characters decide to take a radical turn, I usually hand them the reins and let them take the story where it needs to go. Characters often surprise me! So I still very much follow my characters' leads as opposed to shoehorning them into a plot I've laid out in advance.
 
Jackie: What's your favorite scene in A Hint of Wicked and why?
 
Jennifer: That's a really difficult question to answer, since I like different scenes for different reasons! I'd have to say one of my favorites is when Garrett walks in on Sophie and Tristan in bed. It's a painful scene for all of them for a variety of reasons—I think I'm a little bit of a sadist when it comes to torturing my poor characters! <grin>
Jackie: You know I have to ask this. Tristan or Garrett?
 
Jennifer: Um…both?
---
So, want to find out who the heroine of A Hint of Wicked actually chooses (since Jennifer is clearly too wishy-washy to choose for herself)? Well, you can! Jennifer has graciously offered to give away a signed copy of the book to one lucky commenter to be chosen at random. To enter, just post a comment below. Winner will be announced on Thursday at noon PST!