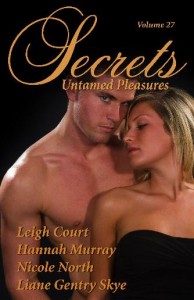 Today I'd like to welcome guest author Leigh Court to the blog. Leigh has a Victorian-set novella, THE BET, in the latest Red Sage anthology, Secrets Volume 27. She's here today to talk about her book and about writing with me. She'll also be giving away a copy of the anthology to one lucky commenter!
Jackie: So, how did a television news reporter become a romance author?
One particularly bad week at work turned me into a romance author.  A good friend of mine — an ABC World News Tonight reporter — was killed in a helicopter crash on his way to cover a story (the cameraman and helicopter pilot also died). My NBC news director assigned the tragic story to me, since I knew him (and his family). As you can imagine, that was a difficult story to do, but later that same week, I had to cover the particularly gruesome death of a New York State trooper. At the end of that week, I went home thinking, "All I do is bad news." That's when I picked up my first romance novel, to try and cheer myself up. It worked! (And it was cheaper than therapy, LOL.) So I thought, "Hey, I write for a living, maybe I could write one of these!"  After all I've seen of life and its tragedies, I'm thrilled that now I can *guarantee* readers a happy ending!
Jackie: Wow, that really sounds like a horrible week! I would definitely give up my day job in your shoes.
 
So, you decided to write romance, but why historical romance? What drew you toward the historical sub-genre as opposed to, say, contemporary or paranormal romance? Or, dare I say it, romantic suspense, which you would seem to be eminently qualified to write?
LOL, ironically, I think the reason I write historical romance is exactly because of the harsh realities of my experience as a news reporter. I set my stories in the Victorian era because I think men were more noble and gentlemanlike at that time, although that probably wasn't true of every man, of course. It also lets me play with the delicious dichotomy of a repressive sexual era into which Richard Francis Burton introduced the Kama Sutra to England!  That books plays a big part in my novella THE BET in Secrets Volume 27 — in fact, it's crucial to the bet.
Jackie: Oh, well I think with that teaser, you're going to have to tell us a little bit more about this "bet." Because I'm definitely intrigued!
In my story THE BET, two drunk friends make an outrageous wager. My hero, Damian Hunt, Viscount Atherton, claims that he can, um, er, satisfy a woman using just his words. The contention is so scandalous and implausible that his friend George Beringer wagers his London townhouse that Damian can't do it, and the woman George chooses for the bet is not only a virgin, she's also George's prudish sister Claire! Damian is forced to accept the bet or lose his prized racehorse in forfeit, but he rightly fears that a virgin wouldn't know what the heck his erotic words mean, so he uses the visual of the Kama Sutra to help introduce Claire to the ways of the flesh. But the end result of THE BET is nothing that Damina or George could ever have imagined!
Jackie: Wow, what a great premise! So, tell us a little bit about your writing process. Are you a plotter or a pantser or a little of both?
I've always been a pantser, but whenever I get stuck in the middle of a story, I do dearly wish I was a plotter, LOL!  Seriously — the more stories I write, the more I realize the value of being a plotter. It hasn't yet made me one, but I do admire them!
Jackie: Do you have any plans for a sequel to THE BET (I'm thinking maybe George needs his own story, but that's because that's how I think!)? If not, can you tell us your next project or release? Or anything else you'd like to let readers know?
In my opinion, George is a bit of a cad. I don't know if he'll be reformed in a future story, but in the meantime, I've sold a story to Samhain Publishing — a contemporary novella that will be included in their Binding Ties anthology. The story comes out on September 29, and yes, there is um, er, a bit of bondage involved!!
 
I also have a Victorian novella in Secrets Volume 15 called The Disciplinarian. And despite the naughty title, the story is not what you might think!
 
Thanks so much for letting me visit with you, Jackie!  If any of your followers would like to read an excerpt from my Victorian romance THE BET, which releases on July 15, please have them to visit my website at www.leighcourt.com. And if they buy the book I'd *love* to hear what they thought of Damian and Claire's story!  An excerpt from The Disciplinarian is on my website as well :-).
---
Thanks to Leigh for being my guest today, and for offering up a copy of the book as a prize. I'll draw and announce the winner, selected from the commenters on this post, on Thursday, the 9th.
On Friday the 10th, Candace Havens will be here to talk about her new book, Dragons Prefer Blondes.