Okay, okay, you probably won't cure breast cancer singlehandedly, but you can make a difference :).
As many of you probably know, my fellow romance writer and friend, Jennifer Haymore, has been diagnosed with breast cancer. In support of her fight and that of so many other women, I'll be donating a dollar in Jennifer's name to Susan G. Komen for the Cure for each person who subscribes to my newsletter during the month of May. (Note: If you're already subscribed, you don't need to sign up again. If you're not sure–and I couldn't blame you if you're not, since I haven't sent one out yet!–you can try it as you won't wind up being subscribed twice unless you use a different email address than you did the first time.)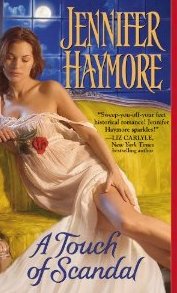 Also, as serendipity would have it, I wound up with two copies of Jennifer's latest release, A Touch of Scandal. One of them's mine, mine, all mine, but I'll be giving away the other to one lucky newsletter subscriber. I'll draw the name of the winner on May 15th, so the sooner you sign up, the better.