When I released THE REIVER as a digital short back in January, I had no idea what to expect in terms of sales, but I didn't really have particularly high hopes. I'm nowhere near a household name, nothing I've ever published with any publisher has ever sold more than perhaps a thousand copies in digital format (and the print version of Behind the Red Door hasn't even sold more than a few thousand copies), so it's not like there are hordes of readers champing at the bit for the next Jackie Barbosa title. (That's not an oh-woe-is-me observation, by the way, just the parameters around which I set my expectations.) The story had also been published in a print anthology, which meant that some people who might have been moved to buy it digitally if it had been new content had already bought a copy in print. It's also only 8500 words long, and I know many people feel that even 99 cents is too much to pay for something that short.
So, with all those factors in mind, I figured if I made back what I'd invested in the cover art within a a year or so, I'd be happy. (That meant I had to sell about 150 copies.) As I've mentioned before, things have gone much better than that, and I wound up earning back my investment within the first two months it was out. This isn't to say that I'm selling all that many copies compared to many folks I know, but I've been really surprised by the trends and I also find them very instructive when it comes to the relative value of various marketing strategies (which is, after all, what all writers want to know–how to market our books so readers can find them).
So, without further ado, below is an Excel chart of my sales since I released THE REIVER on January 17th through 4:00 PDT today: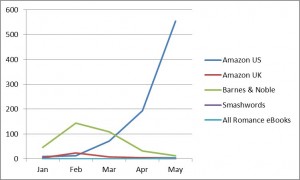 All told, 1,235 copies have sold. In other words, a LOT more than the 150 I'd hoped to maybe sell in a year. It's not particularly large number of digital books to sell in four and a half months (some folks are probably selling that many in a day), but based on the historical norms of books by Jackie Barbosa, it's pretty fricken' fantastic :).
But what's particularly interesting to me in the data isn't that I've sold a lot more books than I expected. It's the way the curves for Barnes & Noble and Amazon go in completely different directions. When I first made THE REIVER available for sale, I sold about 10 copies on B&N to every 1 I sold on Amazon. Now, I'm selling about 2 copies on B&N to every 100 I sell on Amazon. To what to attribute this?
Given that I've never done much to promote this short story save tweeting and/or Facebooking links to it and mentioning it on my blog and occasionally in discussion on other blogs about what I see happening in digital/self-publishing, it really CAN'T be anything I'm doing. The lovely Jessica at Read, React, Review was kind enough to buy a copy of it as well as my Spice Brief and review them both, but as far as I know, that's the only standalone review of the story available anywhere, so it's not like there's this big rolling buzz behind it or anything. So it must something about the actual sites and the way they're constructed.
I've concluded that the single most important thing that drives sales on Amazon is not the Top 100 category lists–although it certainly doesn't hurt to get into them–but the "Also Bought" lists that display when you are looking at OTHER books. As sales increase, the number of people who also bought a different but related book goes up, and as that number goes up, the number of books for which your title is in an "Also Bought" title expands as well. This has a cumulative effect, because as the number of "Also Bought" lists your book appears on increases, the number of new sales you goes up as well, which in turn increases the number of "Also Bought" lists, and so on. The more copies you sell overall, the higher in the Also Bought lists your book appears, as well, so the more sales you get that way, the more readers are likely to find your book.
The thing about this observation, though, is that NOTHING I did caused it to happen. The single biggest factor was probably the fact that, back in March, Kobo discounted the book (which it got from Smashwords) to 89 cents. This is something they are not supposed to do, but I'm glad they did, because it led Amazon to price-match and that, in turn, led to people finding it on Amazon, not because they were looking for anything by me in particular or even because they were looking for Scottish historical romances, but because the price was unusual/stood out. My sales spiked when that happened in the last week of March and then everything steamrolled from there, even though the price has since gone back up to 99 cents.
So here's what I think now regarding promotion and marketing: the best promotion/marketing is to sell a lot of books. Seriously. That's it. Almost everything else is of limited or unsubstantiatable value.